Dubai's real estate market, always a dynamic and thriving sector, experienced significant shifts in the months of August and September 2023. With data sourced directly from the Dubai Land Department and Property Finder, we delve into the trends and patterns that defined these two months.
Overview of Transactions and Worth:
In August 2023, Dubai witnessed a total of 11,851 real estate transactions valued at 33.62 billion AED. However, in September, while the number of transactions decreased to 8,234, the total worth remained substantial at 26.21 billion AED. This indicates a potential stabilization in the market after a bustling August.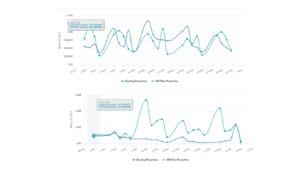 Property Types and Preferences:
The data from Property Finder sheds light on the preferences of property buyers and tenants during these months. In August, 59% of buyers were interested in apartments, while 41% preferred villas and townhouses. For tenants, a significant 81% sought apartments, with the remaining 19% exploring villa options.
Apartment Sizes:
When it comes to apartments, the two-bedroom configuration emerged as the most sought after, constituting 34% of the searches. One-bedroom apartments closely followed at 33%, indicating a strong demand for smaller, more manageable spaces. This trend remained consistent in both August and September, reflecting the practical and efficient preferences of Dubai's residents.
Unit Types and Land Development:
In August, a total of 9,245 units were sold, encompassing 1,321 buildings and 1,285 plots of land. September, while witnessing a decline in transactions, still recorded 5,701 units, 876 buildings, and 1,657 plots. This data showcases the continued interest in both developed units and undeveloped land, indicating diverse investment strategies within the Dubai real estate market.
Market Analysis:
The contrast between August's high transaction volume and September's slightly reduced but still substantial market activity suggests a healthy and adaptable real estate landscape in Dubai. Economic factors, government policies, and buyer preferences all play pivotal roles in shaping these trends.
Conclusion:
Dubai's real estate market remains robust, displaying resilience and adaptability in the face of changing demands and economic conditions. The diverse preferences of buyers and tenants, ranging from apartment sizes to unit types and land development, underscore the versatility of Dubai's real estate offerings. Whether you're looking for a cozy one-bedroom apartment or a spacious villa, Dubai's real estate market continues to offer a plethora of options for investors and residents alike.
Sources: Dubai Land Department, Zawya